Why HEINEKEN Vietnam?
Originally established in 1991, HEINEKEN Vietnam Brewery Limited Company (formerly Vietnam Brewery Limited) is a joint venture between Saigon Trading Group (SATRA) and HEINEKEN. HEINEKEN - a family-owned business with a history of over 150 years, is one of the world's leading international brewers that brews and distributes over 250 beer & cider brands in more than 180 countries.

In Vietnam, The Company brews and trades Heineken, Tiger, Larue, Desperados, Affligem beers and Strongbow Cider. There are 5 breweries of HEINEKEN Vietnam, in District 12 – Ho Chi Minh City, Quang Nam, Da Nang, Tien Giang & Vung Tau.
Today, HEINEKEN Vietnam Brewery is one of the most long-standing and successful joint ventures in Vietnam. HEINEKEN Vietnam Brewery makes a significant annual economic contribution to Vietnam, approximately 0.75% of the nation's GDP. The company focuses on using Vietnamese products wherever possible and adds nearly 200,000 extra jobs in Vietnam. Last year, HEINEKEN Vietnam was proud to be in the top 10 of Anphabe Best Place to Work 2016. We are continuously sharing and improving our culture and working environment to offer our current and future employees the best place to work.
Sustainability
HEINEKEN Vietnam is the most sustainable manufacturing company in Vietnam
(as rank #1 in the Corporarte Sustainability Index by Vietnam Business Council for Sustainable Development (VBCSD) under Vietnam Chamber of Commerce and Industry (VCCI).
With the aim to Brew A Better Vietnam, HEINEKEN Vietnam is continuously improving striving to sustain in Vietnam while creating the significant shared values.
HEINEKEN Vietnam made a significant economic contribution to Vietnam, approximately 0.75% of the nation's GDP, as well as focusing on green growth by using carbon-neutral initiatives such as using biomass to create thermal energy for brewing. It also prioritizes using Vietnamese suppliers wherever possible and by doing so adds nearly 200,000 extra jobs in Vietnam. HEINEKEN Vietnam has shown strong commitment to advocate responsible drinking in Vietnam by implementing impactful campaigns such as the Responsible Drinking campaign at Tiger Wall events. Additionally, HEINEKEN Vietnam Brewery in particular is one of the most long-standing, stable and successful joint ventures in Vietnam with its partner SATRA Group for 26 years.
If you are interested about HEINEKEN Vietnam sustainability, access this website for more information: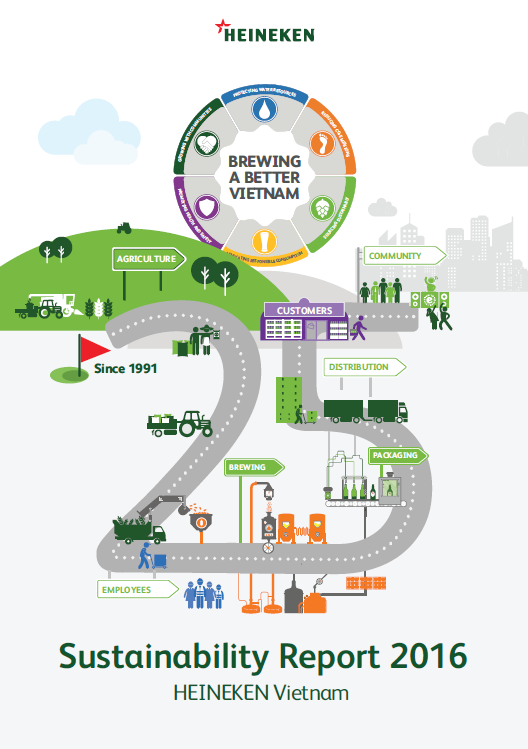 http://heineken-vietnam.com.vn/images/sustainability/sustainabiliry_report_2016_vi_july-04.pdf
People Development

We focus on developing our people. Giving them the training and coaching sessions they need to support them in their career path at HEINEKEN Vietnam.
Our working environment
"If you don't like people, don't work for HEINEKEN" – CEO Jean-François van Boxmeer
What do you think the working environment at HEINEKEN Vietnam look like? Have you ever imagine having a bar inside your office? Have you ever dream of working out right at the office?
Then welcome to HEINEKEN Vietnam, we've got it all for you.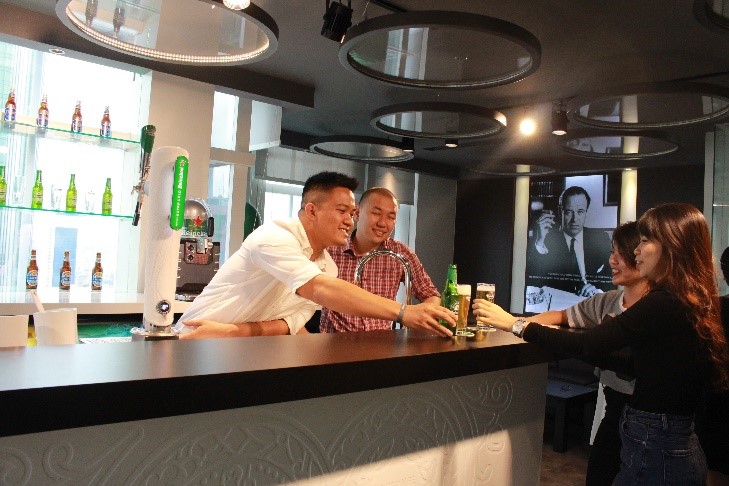 Bar inside the office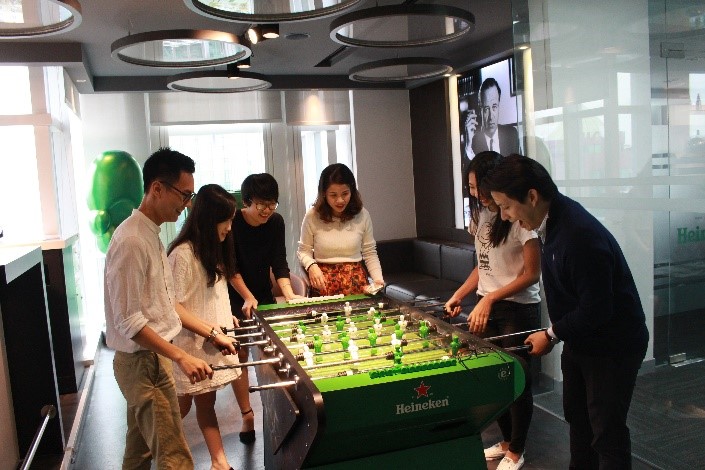 Playing games with colleagues during noontime break
We also have gym room, where you can register for Yoga and Zumba class (show up your dance skill or maybe just to burn those extra calories on lunchtime)
Our employees

HEINEKEN Vietnam have a board generation from the baby boomer, gen X to gen Y. And we are proud to have many talents in all generation. So if you are looking for an energetic and diverse environment, then you're very welcome to go on board with us.
Are you a driven, internationally curious graduate who is ready to be challenged in a high-paced environment at one of the world's most respected organizations? Are you prepared to push yourself, both professionally and personally, in order to reach your true potential? If so, HEINEKEN is looking for YOU!
This year, HEINEKEN Vietnam brings you the Asia Pacific Graduate Programs (APGP) recruiting for IT, Commercial (Sales/ Marketing), HR, Communication/ Sustainability/ Legal
Join APGP, you can:
Working at several countries in the Asia Pacific region

Becoming a future leader

Buddy up with management level mentors

Deadline for application: 10 December 2017

For more information, access our website: https://heineken.wgtrm.com/overview?sid=2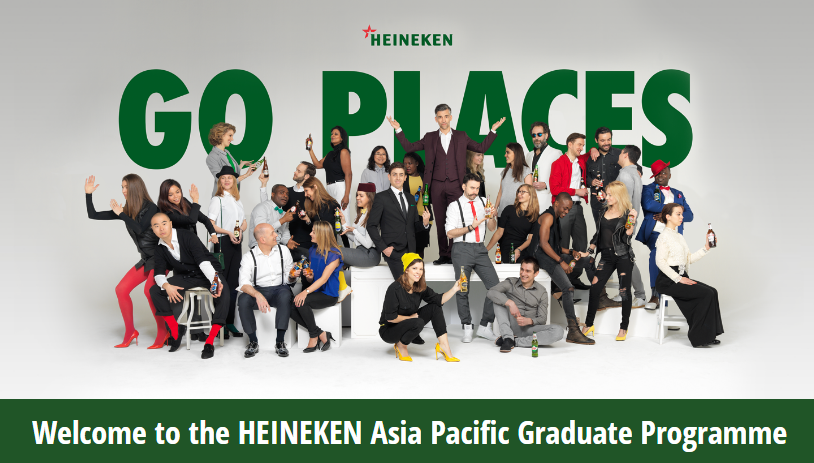 Inside review about HEINEKEN Vietnam
Talent Acquisition Assistant

-

1514948862

Pros: The company provides many opportunities to learn and develop